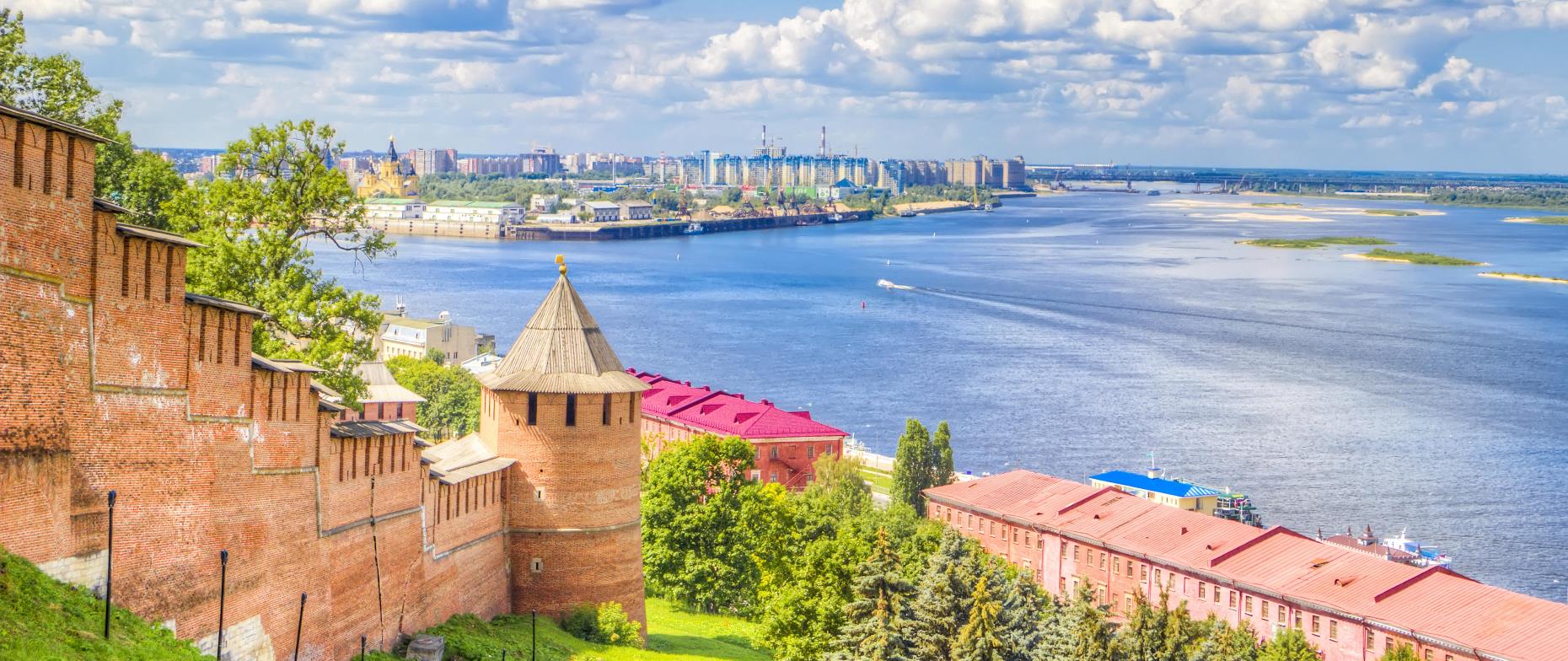 Middle Volga: Nizhny Novgorod, Samara
Nizhny Novgorod
Known as the third capital of Russia, Nizhny Novgorod is known one of the largest historic towns in Moscow. In soviet times, the town was known as Maxim Gorky, after one of the world's best-known Russian writers.
Take a walk along the cosy historical streets, visit the museums, theatres and churches and enjoy the far-reaching views from the kremlin and of course the high-altitude cable cart.
Samara
Samara is the gateway to the Volga region. In Soviet times, it was called Kuibyshev, and during the war it was the reserve capital of the USSR.
Today you can see Samara and its surroundings in all its splendour: the Zhiguli Uplands, the most beautiful monasteries and historical museums – One of Stalin's bunkers was built here, 37 meters below ground; the equivalent of a 12 storey building.
This bustling city is home to some of the best restaurants in the region, with something for everyone, it's not to be missed.
For many, despite covering almost one eighth of the world Russia remains a mystery, one of the world's unknowns. It's rich in history, cultural intrigue and natural wonders combine to make Russia a must-visit destination for anyone seeking something truly unique.
The experiences
Russia has so much to offer. From an authentic tea ceremony to a day spent exploring old churches, every moment is designed to blow you away. Because the true magic of Russia is that it's unlike anywhere you've ever been before.
The rivers
The network of spectacular rivers and lakes are an attraction in themselves. Ice-blue waterfalls cascade over mountainous outcrops at Plutorana Plateau; tiny islands float in the midst of the expansive Lake ladoga; and Moscow's canals offer a unique viewpoint for the city's sights.
We organise cruises from Moscow, St Petersburg, Samara, Nizhny Novgorod and Kazan
Ports of call
The onion-topped buildings and twisted-spire churches of Moscow and St Petersburg are iconic, Russia has so much more to explore. There are frescoes by Dionisius, a 45,000 year old mammoth and a city built on frozen ground. Whichever cruise you embark on, you'll be amazed by everything you uncover about this continent.
CALL ME BACK
Please leave your phone number and one of our team will call you back as soon as we can. Please note our opening hours are Monday to Friday 9am - 6pm.